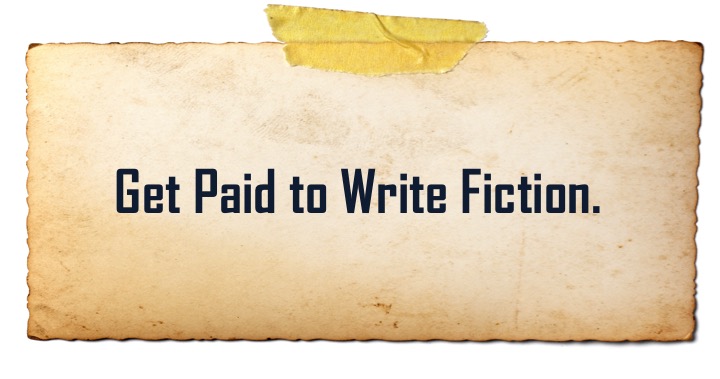 Most writers – myself included – dream of making money telling stories. Until now, I haven't told many people this, but I've earned paychecks for writing fiction. You can, too. Let's take a look at a few of the ways you can earn an income using only your imagination.
There are opportunities aplenty for budding fiction writers. Before we get into how you can find those opportunities, let's look at the reality of a fiction writer's working life.
I'm assuming that you want to find clients who will commission stories or novels from you. You want the challenge of being given an idea and asked to shape a story from it. In that case, you're seeking to be a fiction ghostwriter. (If I'm assuming wrong, read on, I've got some helpful hints for you, too.)
Being a ghostwriter is one of the fastest routes to earning a living from telling stories. You're being paid to practice the craft of writing fiction.
What an awesome job.
On the flipside, you'll need to be willing to work super hard, and you must set your ego aside. To be a successful fiction ghostwriter you need to be:
Able to write fast. And I mean really fast. Ghostwriting fiction is a competitive field, so rates are usually much, much lower than for business copywriting or even for magazine articles. If you plan to feed yourself, you'll need to hammer out stories at speed. You can learn how to write fast here.
Willing to work with other people's ideas. Most of the time you'll be given a story idea by your client, and your job is to flesh it out. You can inject your own ideas, but you can't be precious about them. The client gets the ultimate say on what's in and what's out.
Able to write in various genres and voices. You might be asked to pen a hard-boiled detective story or a flowing romance. Either way, the structure of your story and the voice you use should reflect the conventions of the genre.
Happy for others to take the credit. Chances are, you won't even get a mention when the story or novel is published. And if the story you write is a roaring success, well, you've had your paycheck, so your client reaps all the benefits.
Still on board with being a fiction ghostwriter? (If not, you can skip to the end of the article, where I'll show you what to do if you want to earn money from your own stories rather than writing other people's.)
Let's take a look at the opportunities out there.
Bidding sites. These include Elance and oDesk. You can sign up for an account at these sites today and start bidding on fiction projects. At the time of this writing, oDesk has 75 gigs with the word "fiction" in them. Not all of them are fiction ghostwriting, but many of them are. The work available includes writing a 12,000 word romantic suspense story, and writing a fiction story about the 2011 earthquake in Japan. Over on Elance, there are 120 gigs containing the word "fiction," including writing the first chapter of sci-fi book and creating the backstories for characters in a fantasy series. Many of the gigs have fewer than 10 proposals, so if you put in a competitive bid, you'd have a reasonable chance of success. We've got a guide to getting started on Elance here, and oDesk here.
Micro Freelancing. Micro freelancing sites such as fiverr let you offer your writing services for a small fee, typically five dollars. Over at fiverr, you can offer to write a short story for five bucks. Most of the writers who doing this successfully are offering stories of 500-1000 words. That means you'd be earning between half a cent and a penny per word. The pay is low, but it's a good way to get started, and writers offering stories are winnig gigs, so there's work to be had. Additionally, once you've proven yourself on fiverr through positive feedback from your clients, you can "level up." At level one you can earn up to $40 per gig, and at the highest level you can earn thousands of dollars per gig. You can read our guide to getting started on fiverr here.
Online search. Another way to discover fiction writing jobs is through an online search. Enter "fiction writer wanted" into Google. You may be surprised at the opportunities you discover. If you want to dig deep for work, then get creative with your search terms. The more search ideas you think up, the more likely you are to discover hidden opportunities. Doing the same with Twitter's advanced search tool will help you find even more fiction writing gigs.
As you can see, there are opportunities out there for writers who want to earn money writing fiction.
What if you want to get paid for your own stories rather than writing somebody else's?
You've got a few options. For novels, you can find an agent, who will submit your book to publishers. Or you can bypass that system and self-publish. This is a path that writers are increasingly choosing to take as it gives them more independence and offers far higher royalties (typically 70%).
For short stories you can also self-publish (it's worth getting together a collection of stories before you do), or you can submit to literary journals and magazines.
The good news is that many literary journals are now published online and accept submissions by email. To keep updated on all the latest opportunities and calls for submissions, subscribe to Freedom With Writing's sister publication, Authors Publish Magazine. Subscriptions are free, and we'll send all the latest opportunities direct to your inbox, along with articles giving expert writing advice.