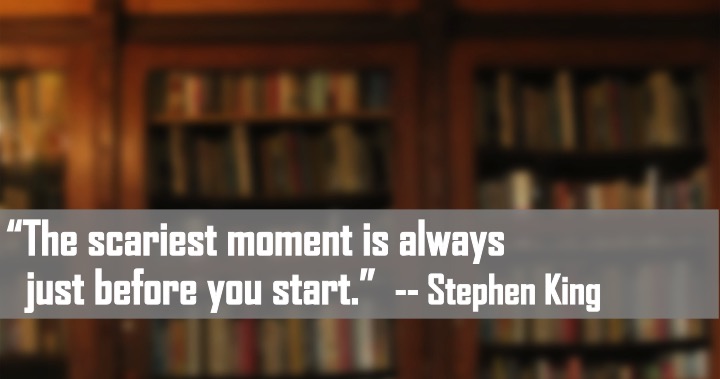 If you want your first freelance writing client, this is for you. I'm going to walk you through a very easy way to get started with your first client. By the end of this article, you'll know exactly what to do in order to become a paid writer.
Many people dream of becoming a professional writer. It's the new year, and many people have started to fail their resolutions. I have to confess: If you're anything like me, you've probably broken your resolution already. Perhaps this is confessing too much, but I'm not someone with an iron will.
The problem with most New Year's resolutions is that you have to keep them up day after day after day. To lose weight, you have to continue to eat healthily every day. To stop smoking, you have to shun cigarettes 24/7. These are worthy goals, but it's little wonder they prove such a challenge. Kudos to you if you're sticking with them.
Here's the solution to setting a resolution you can keep: create a resolution you only have to do once in order to achieve it.
Because you're reading this article, it's a safe bet that one of your dreams is to be a freelance writer. You'd love to earn a living, or at least some pocket money, by putting pen to paper. The only thing is you don't know how to get started. You've no idea who would be willing to pay you to write. You're not sure your writing skills are good enough. Also, you're understandably afraid of rejection. It's the lot of the writer to be rejected, but that doesn't take away the sting when it happens.
Right now, make a promise to yourself. Make a resolution for 2014. This will be the year you first earn money for your writing. Don't panic about how you'll make that happen. I'll show you an easy technique to get started in a moment. Just make the pledge to yourself.
Done? Then we're ready to go.
To keep your resolution, you only have to earn money once from your writing. That's all. And when you've done that, you will have jumped a massive hurdle. You'll be far ahead of the pack, because you will have taken real action towards your dream.
Getting your first client is one of the biggest challenges you'll face in your writing career. There are three key reasons for this:
You don't have any track record. You don't have anything to show potential clients so they know what you're capable of.
You're low on confidence. You struggle to believe that this crazy dream you have of being a professional writer has any chance of coming true. Perhaps your friends and family question your dream, which further knocks your confidence.
You're not yet aware of the potential that lies dormant within you. You need someone who believes in you to make that potential a reality. As such, you feel uncertain about the services you can offer. "Could I really write a press release?" you wonder. "Do I really have what it takes to write a blog post?"
The good news is that getting your first client can be easier than you imagine.
Getting paid for your writing smashes through all three of these barriers. You'll have professional work you can show to future clients. You'll get a massive injection of confidence in knowing that there's a market out there for your writing services. And you'll begin to discover what you're capable of. You'll start to fulfill your potential.
So what is this ABC easy way to get your first freelance writing client? I'll start with the short answer, then I'll explain how it works.
The answer is micro-freelancing. Micro-freelancing is when you're paid a small fee (typically around $5) for doing a small piece of work.
As you can imagine, there's a huge demand for micro-freelancers because businesses are always looking to get the most bang for their buck.
The most popular micro-freelancing site is fiverr. If you want to stay true to your resolution for 2014, I recommend you start here.
To get started on fiverr, you should:
Create an account. Head over to fiverr and click Join. It's free to sign up, and it only takes a few minutes. You'll be guided through the process of setting up an account. Remember to state in your profile that you're a professional writer and to include any relevant professional experience you have working in communications.
Decide the services you're willing to offer. What writing work are you willing to do for $5? To get an idea of what you could offer, browse the writing and translation category on fiverr to see what other writers are offering. Think of as many ideas as you can. Fiverr allows you to list up to 20 different gigs, and the more gigs you have available, the more likely you are to get an order.
List your gigs. On fiverr, each service you offer is called a "gig." Every gig you offer must include a relevant image and a description. You'll need to set aside a reasonable amount of time to list your gigs – probably a Saturday afternoon or a couple of evenings after work – but it's a worthwhile investment to make your writing dream a reality. Not sure how to describe your gigs? Look at similar gigs offered by other writers for inspiration. Don't copy them word-for-word, but you can use a similar structure and keywords.
Promote your gigs. You're more likely to get orders if you promote your gigs. Social media is great for letting your network know that you're available for hire and where they can purchase your services. If you have a blog or website, you should also list your services there.
Fulfill your orders. When your first order comes in, you'll feel awesome! Do the best job you can so you get good feedback. The more good feedback you receive, the easier you'll find it to get orders in the future.
Getting work on fiverr really is that simple. I recommend you get started today, and set a goal of getting your first order within the next month.
A final question that's probably nagging at you: Isn't it exploitative, working for five dollars? It can be. For one, fiverr takes 20% of your earnings, so your actual income is $4 per gig. So if you offer a gig that takes you four hours to complete, then you'll only earn $1 per hour. And chances are that as you build your reputation, you'll be working for a low hourly rate.
That said, you should aim to list gigs that take you 15-20 minutes to complete. Then your hourly rate will be $12-16 per hour, which is a decent income for a writer who is just starting out.
What's more, once the orders start rolling in, fiverr lets you "level up." Once you increase your level, you can offer gig extras. At level one, you can earn up to $50 per gig through gig extras. At the top level, you can earn thousands of dollars per gig. So once you've built your reputation, the earning potential is huge.
Here's to your writing career! You can make 2014 the year you earn your first pay check from your writing.
Thoughts, questions, criticism or comments about this article? Email David