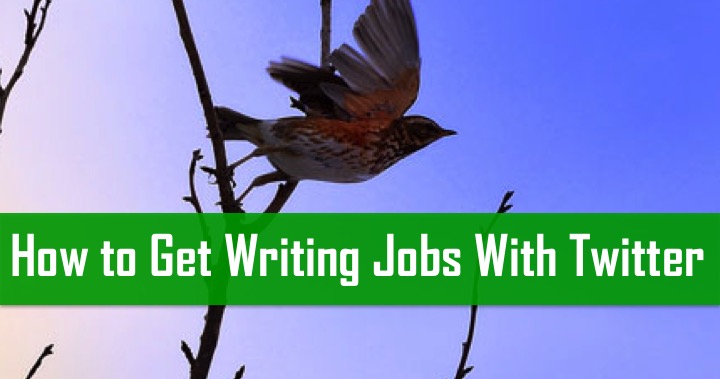 Want to find writing opportunities today? Then head over to Twitter right away. You should read this article first, so you'll know how to dig up the best gigs. I'll give you the tricks I've used to find valuable opportunities and some extra tips for good measure.
The mechanics of finding writing work is actually fairly simple. You've got a valuable skill – wordsmithing – that many people are willing to pay for. All you need to do is find people who are looking for help with writing tasks and who have money to spare.
There are plenty of people who struggle with writing, or who don't have time to sit down and write, but who have the budget to pay for a writer.
Get in touch with these people, show them what you're capable of, and you've won yourself a gig.
If only it were that easy…
There are plenty of places online you can find writing work (we show 14 of them here). From bidding sites to micro freelancing opportunities, if you want work, it's there for the taking.
The only problem is, it's a competitive world out there. You can make it as a writer, but you'll need guts and determination to succeed, especially until the time you get your first big break.
I recently highlighted fiverr as one of the best places to win your first writing gig so you can grow in confidence and develop your writing skills. I'd still recommend fiverr as the best place to get started.
But what if fiverr isn't right for you? Maybe you want to earn more than $4 per gig (Note: You can level up and earn more on fiverr), or perhaps you want to actively search for work while you wait for your first fiverr order to come in.
In that case, I recommend Twitter.
Twitter is a fantastic tool for uncovering writing opportunities. That's because people looking for writers on Twitter are usually desperate. They want a writer right now. If you respond immediately, you've a good chance of getting hired.
It's a bit like fishing. You'll need a ton of patience, plenty of smarts, and lightning-fast reactions.
I'll assume you know the basics of Twitter. You're reading this, so you probably know how to find your way around a social networking site. If you have any questions, there are plenty of basic Twitter tutorials you can find with a quick Google search. Twitter also has its own support center here.
What I'll show you are the tools and strategies you can apply to Twitter to find writing gigs.
Ready to go? Then let's roll.
Your secret weapon for finding writing work on Twitter is the advanced search tool. In my experience, not many people know about the advanced search tool, and even fewer know how to use it to its full potential.
Let's start with a basic search. Perhaps you're looking for copywriting gigs, in which case you'd type copywriter wanted into the search bar. Hit search. Already you'll see some exciting opportunities. Take a moment to explore what you've found.
By default, Twitter only displays the top search results. This means you might miss out on some hidden opportunities. To display every Tweet containing your search term, look for the Top / All menu at the top of your search results, and click All. You'll see a ton more opportunities that you missed the first time around.
Amidst the jobs, you'll find some irrelevant results. For example, I found a tweet saying "My Dad always wanted to be a copywriter." Interesting, but not what I was looking for. How might I narrow the results?
Go back to the advanced search page, and put quotation marks around your search. So instead of copywriter wanted, enter "copywriter wanted". Hit search again. That's better, isn't it?
The next step is to get creative in your phrases. For example you might also search for "copywriter needed" or "looking for a copywriter." Try to think of as many different phrases as you can. The more phrases you think of, the more likely you are to uncover opportunities that no one else finds.
Now, go ahead and search for each of the phrases you've thought up. What other opportunities did you find?
Going back to the search page for each search term is exhausting isn't it? It would be far easier if you could enter all your searches at once. The good news is, you can! On the advanced search page, look for the form Any of these words. Enter all your search terms into this form, remembering to put quotation marks around each search term. If you were looking for all three of the searches I've suggested, then your search would look like this:
"copywriter wanted" "copywriter needed" "looking for a copywriter"
Now when you hit search you'll see the results for all the terms you entered. Neat, huh?
Here are a few more search terms you might find useful:
"anyone know a writer?"
"help with writing"
"stuck writing copy"
I'm sure you can think of many more.
Once you've found an opportunity, act fast. Sometimes there will be a link, where you can find an email address or application form. Other times, you can make contact on Twitter. Replying to their tweet with, "I'm a professional writer, can I help?" is usually enough to get the conversation started. If you're the first to reply, then you have a good chance of winning a writing gig.
I'll finish with a bonus tip. Often when you're looking for clients for your writing business, you'll have more luck with prospects in your area. That's because you have something in common (you live in the same city) and because the client has the opportunity to meet you.
Twitter's advanced search tool lets you narrow down search results by location. On the search page, look for the "near this place" form, and add your city. You'll also want to enter the previous search terms you used for finding writing gigs. That way, you'll see the opportunities in your area.
Good luck with your writing search. Oh, and if you want to connect on Twitter, you can find me here. I look forward to meeting you!