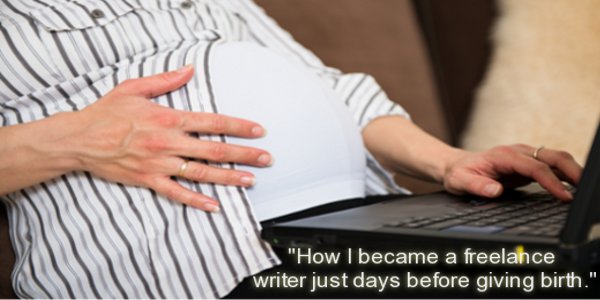 My freelance writing career started just days before I gave birth to my third child. With maternity leave looming, I needed a new source of income, fast.  I was motivated. I was also lucky, because I had finally found the right guidance to get me started.
More on that later, but first, let me tell you about my long journey to finally launching my career. Why? Because it will show you that no matter how many times you get pushed off course, it is still possible to find success.
In 2003, while still enlisted in the United States Air Force, I finished my bachelor's degree in Technical Communications. At the time, I thought that this degree was going to open doors for me professionally as a writer. Unfortunately, it did not. Faced with an impending honorable discharge from the Air Force in 2005, the degree that I had worked so hard to obtain was virtually useless to me because I did not have any experience.
As life may have it, I went on my way as a Physical Therapist Assistant after being discharged from the military. I did not really think about seriously pursuing a writing career again for another 6 years. And, working in the health care field is very rewarding.
Flash forward to 2011, a couple months after I was married I found myself in a new town and miserable with my current job. I attempted to break into freelance writing as a way to work from home but, was confused as to which direction to go in.
All of the research I did on breaking into the market lead me to content mills that paid a couple pennies per word or clients who wanted 25-500 word articles for $25. While I knew I needed to break in somehow in order to get experience. I still hadn't found the right guidance, so I was stuck. Fortunately, I was able to find another  a lucrative Physical Therapist Assistant position. Unfortunately, this meant putting the freelance writing dream on hold.
In 2012, while home on maternity leave with my second child, I attempted to break into the market again. This time I had subscribed to an email newsletter that would email me freelance job openings every week. None of the jobs seemed to pan out because I did not have any experience. That is when I began to realize: you cannot get good freelance assignments without experience and you cannot get good experience without quality freelance assignments. So I put the dream on hold again, determined to figure out how it all fit together.
Then, in June of this year, with my third child only days away from being born, I was placed on early maternity leave. Worried that I could not contribute to the household income, I decided once and for all to become truly dedicated to figuring out how to start this freelance writing career. I looked at my usual places that yielded the same results that I had experienced the years before when trying to break into the market.
Then an article popped into my email box. It was from Freedom with Writing. The content of that early June email listed companies that were currently hiring, including Demand Media Studios and Yahoo Contributor Network (also known as Yahoo Voices). I joined both websites, applied to available positions, and was accepted by both within 48 hours.
I was hired by Demand Media Studios to write content for their health and fitness section. Yahoo Contributor Network, on the other hand, allowed me an open platform to write content that was relevant, but that was not within a particular genre or niche.
Why I Wanted to Become a Freelance Writer
I always wanted to be a writer. Even from when I was a young child. As an adult, I began to find freelance writing appealing. I enjoyed the idea of earning a living by writing full-time and working from anywhere and at a time that was suitable to me. In addition to being paid to write, I enjoyed the ability to pick and choose jobs and projects that appeal to me and that I specialize in. Working within my niche has made writing enjoyable.
My First Freelance Writing Assignment
My first writing assignments were actually a grouping of three articles for Demand Media Studios. These first three articles were part of the probationary period prior to being able to claim additional assignments. My first article was entitled Exercises & Geriatric Rehabilitationand was published just a couple days before my third baby was born earlier this summer. It was such a thrill to finally see my name at the top of that content on a major website.
The Work I Do Now
The majority of work I accept is from web copywriting. Blogging has also permitted me to branch out into various other writing niches. I still write content for Demand Media Studios in the health and fitness section. In addition, I also write for Skyword and Yahoo Contributor Network mainly in the health, fitness and rehabilitation niche. I belong to other writing platforms as well such as Helium, iWriter, and oDesk.
I recently completed a project that I had applied to from a job board. That article paid three times what I was making per article at other sites.
My Day to Day Writing Routine
I write mainly during the week. I am currently a stay at home mom with a part-time weekend job. Since I stay at home with my children during the week, I write during their nap time and in the evenings after they have gone to bed for the night. I have learned dedicating a particular amount of time each day to my writing greatly decreases any frustration I may feel with the process. I generally dedicate three to six hours of my day to writing.
What Others Say About Me as a Writer
My husband and my oldest daughter are my biggest fans during this freelance writing journey. My husband is a published academic writer so for both of us to be writing and publishing is a great accomplishment for our family. One thing he is always trying to instill in me is to read often and write frequently. Doing this has greatly impacted the quality of my writing.
Advice for New Writers
1. Remember to write often. I have found that having a blog has helped with being able to write for an audience and to keep my writing going even when I do not have projects. I have even linked most of my relevant material to my blog site so my followers can also enjoy my articles.
2. Learn the writing style. I was from an academic background and knew MLA and APA very well. Unfortunately, content writing requires knowledge of AP style. I purchased a used AP Stylebook from Amazon and familiarized myself with the format. I also paid particular attention to any guidelines and/handbooks offered by the client you are working for.
3. You're not going to be perfect right off the bat. This one has taken me a very long time to accept. My first writing assignment came back with more edits than content on the page. This was very disheartening at first because I had always credited myself for being such a proficient writer. It takes patience and practice. I still get edits back but, it is all part of the learning process.
4. Take your time with the writing process. This goes along with the previous point. Take your time and self edit. If you have to, have someone else read it too. Too many times I have tried to rush through my writing quickly in order to move on to the next project in an attempt to complete as many articles as I was able to in a week. All this did was lead to a lot of rewrites and a few rejected articles. It takes years to be able to produce 60 articles a week. I am lucky if I produce 10 articles a month.
5. Having your writing rejected is a part of the job. I have had a few articles rejected since I have started. At first I was upset about being rejected. But I quickly learned from Freedom with Writing and other freelance writers that there are other platforms, such as Yahoo Voices, will accept the rejected material—so long as it is error free. I have submitted rejected articles to Yahoo Voices, all of them have now been published on Yahoo for performance payments.
7. Read as much as you can on the art of freelance writing. Start out with the articles sent from Freedom with Writing. They are full of great information and tips on how to land quality writing jobs, including the best available platforms for new freelance writers and writing resources that you will not learn from a typical internet search. Also participate in any forum groups that your client offers and learn from other freelance writers.
8. Become disciplined in your time and craft. Freelance writing demands that you are able to be organized and efficient with your time and writing. You won't make a whole lot of money off of your first assignments. Maintaining discipline will encourage you to write better and faster content as well as keep you sane. Also, become disciplined in the craft of writing. Maintain good reference material, take classes, and ask questions to learn as much as you can about freelance writing.
9. Learn SEO. I had no idea what SEO (Search Engine Optimization) was prior to beginning my freelance writing career. Nor did I know that using it was the way that many freelancers were making a good living by writing. By learning the art of SEO, I have been able to drive more internet traffic to my articles thus making me more money. This is especially true for platforms that offer performance payments like Yahoo Voices. There are many articles and online classes available on the internet that can teach you SEO.
10. Keep all of your articles in one place. Create an online portfolio where you can maintain all of your online clips for easy access. Creating an online portfolio has been a time saver for me when applying for projects outside writing platforms. Being able to offer a sampling of my published works has made it easier for my clients to judge the type of writer that I am. I currently use Contently to store all of my clips, but you can also create a blog of just your writing clips as well. Remember to follow copyright rules when using the latter method.