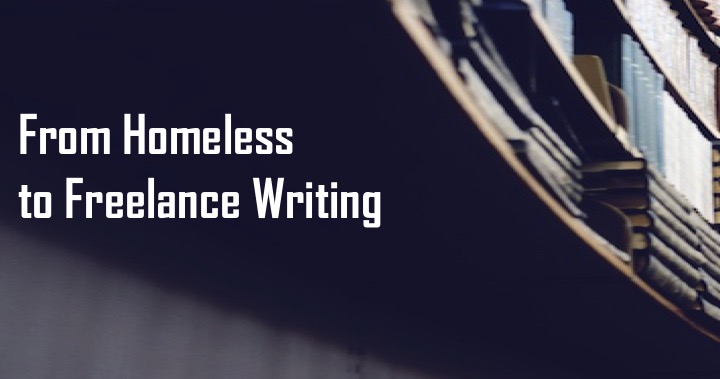 Written by David G41
When I became a freelance writer, I was homeless and jobless. I had very few friends. Freelance writing was the gift that allowed me to live a comfortable life on my own terms.
This is the story of how I went from being homeless to becoming a full time freelance writer.
It starts with the day I lost my last "real" job.
Sitting across from the foreman's desk, my curiosity heightened. My trips to this man's office were minimal over the course of five years. Although my gut instinct told me my well-deserved raise was just seconds away, I was about to quickly find out my supervisory position had been eliminated. No two weeks' notice, no severance pay and no in-depth explanation other than the new company had abolished 38 unneeded positions at the factory, and brought many of their own workers when they purchased us. With zero savings and rent due, I was headed for skid row.
It was March, 1998.
Standing in Line
Immediately upon losing my job, with no money to give to my landlord, I conceded to his demands for vacancy. With no family within earshot (not that they were in pristine financial health themselves), few friends that weren't hooked on mind altering chemicals, and a virtually dried up local economy, I grabbed what items I could stuff inside my Kelty and hit the soup line just twelve blocks away.
Homelessness will definitely put reality into perspective. I struck up a few conversations with those immediately to my front and back, fighting off the smell of stagnant Jack Daniels and unkempt bodies. Once it was my turn to receive the daily portion of donated grub, I sat virtually alone in a school-like cafeteria, and couldn't help but notice how many people prayed before dinner. So I tried myself.
Shortly after dinner, I was met by an individual while heading to the library who seemed overly peppy about his current situation. He didn't dress badly, seemed to keep his bodily odors under control and offered to buy me a cup of coffee before I hit the library. I accepted, and we headed to a small cybercafé. While standing in line contemplating my order, I couldn't help but notice this man pulling out an American Express card. Mind you this is an individual who just scarfed the same portions I did.
House Coffee, With Character
I grabbed my house coffee, doctored it to my liking, then grabbed the first available couch cushion for some much needed leg rest. As this man, who later introduced himself as Steve, began taking off his back pack, he turned to me with an eye-widening grin and told me I was a freelancer. Confused, I picked up a Rolling Stone magazine and flipped through it to pretend I was dismissing his claim.
"No I didn't say you were a freelancer, I said that you have it in you," he stated as if to shake off an accusation. At the time, I must admit, I thought freelancers were contract killers; so you can imagine what was running through my mind as this gentleman is suggesting I could become a sniper.
"I'm sorry, but whacking politicians and those who owe money won't help me off the streets, but may land me three hots and a cot," I chuckled as I spoke. Attempting to be serious, I shifted the focus from his words to his eyes, which my mother always told me were windows to brighter answers. What he said next would forever alter my life, and lends itself to my ability to write this today.
"Freelancing, for the lack of a narrower definition, encompasses all work which can be done from remote locations and allows you to control the inflow of assignments. Writing, which is what I've been doing for 17 years, is quickly becoming a very lucrative form of expression; with the Internet taking off in God knows which direction, I've found companies who want to present themselves before this new digital generation need talented writers to help convey their message. I waited a very long time for my chance to be heard, and the Internet is providing the vehicle for my voice."
I had been dabbling with the Internet, setting up Yahoo email at essentially seeing what was out there. It seemed to take forever to go from page to page, but it was time well spent. As I listen to his spiel, he continued to tell me more about how writing is the future of the Internet, and how nobody could run out of words to say. I'd written several short stories on notebook paper (none which managed to hit the publisher's desk), so I could actually see some sense in his statement. My prayer at dinner time was to find work, by the way.
We continue to break bread for several hours, discussing everything from Nine Inch Nails to writing interesting soliloquies. I made a mental note of everything he said about launching this digital writing career, thanked him for spending time with me and the coffee purchase, and jogged to the library for the last hour it was open. In that entire hour, I managed to use Mavis Beacon's Typing Tutor more than I'd really wanted to, but much less than I could have. It's like my fingers were possessed, but why?
Once the library closed, I trucked my way back to the men's shelter and made it before lights out.
My First Article
Somehow, Steve and I managed to arrive at the library in synchronicity the next day. He asked me, without bidding me a fair morning, if I was ready to get started writing content for the Internet and learning how to dig deep within my heart to write effectively for mass audiences. It's not like I had a job waiting for me, so I graciously accepted his offer. We reserved our computers in close proximity to each other, with him even offering to pay the librarian for extended use. Did I meet Rich Uncle Pennybags?
He stood beside me, opened up a Word document, demanded that I sit in front of it until the first feeling popped into my heart and then type out a title for that feeling. After roughly 25 minutes of staring, brainstorming, halfway crying and feeling hopeless, I turned to the one area I recently became an expert in – losing my job. From there, it all became crystal clear; I needed to describe how employees should be treated before, during and after their employment tenure. After admittedly getting giddy, I felt the title come to my fingers:
"How Your Employees Should Not Be Treated"
Armed with my self-acquired writing knowledge, I crafted a heartfelt 2,250 word account of how employers continually abuse their loyal workers, and what steps should be taken to protect the liberties of personnel around the country. After judiciously spellchecking my work, I hailed Steve to my computer so he could inspect. Since I'd never quite matched this level of journalistic standard prior to that day, I really didn't know what this content could be worth to the right person – if this guy was even paying for it. Apparently, Steve was the right person and my efforts netted me $450. I wasn't sure if this was some sick joke when he told me this, but when those Benjamin's hit my hand, I guess I found out differently.
After receiving my overly generous payment, he began explaining an incredible story that mired his life for a decade until he was able to take his written talents to the Internet. He explained that he chooses to remain homeless so he may help those he sees potential in, although I'm still unsure how he sees writing potential in broke, frayed individuals like myself. Apparently, he takes a portion of the proceeds from his work and reinvests it for the betterment of writers who show aspiration. After completing his story, he hit the 'X' button on my document like I never wrote it. He didn't need it after all.
One Lead Establishes Future
Steve pulled up his chair next to me and began flipping through various websites that were designed using Angelfire, GeoCities and similar web building programs. He began explaining how the future of the Internet would include every single business you see on the streets, allowing people to shop from their homes. These websites would require talented minds, fingers and hearts to write for these businesses so who they are, what they represent and what they offer can be brought to life. He jotted some notes down on a scratch piece of paper, handed it to me and wished me luck. I've never seen him since that day, and often wondered if something happened to him.
I took that $450, saved it, and followed the notes Steve wrote verbatim. One of his entries was a contact who landed me 12 more article writing jobs; although not nearly as lucrative as what my test article paid, it was enough to pull me out of homelessness and into a studio apartment. From there, I was able to purchase my own food, computer, printer, furniture and establish savings for rainy days. I've never set down my pen since, which is nearly 15 ½ years ago to this day.
Even after 8,000 articles, 49 e-books, 272 white papers and over 900 editing gigs, I'm learning something new every day I sit before my computer. God puts people in our path for a reason, and although I loved my factory job, getting released was probably the greatest thing that's ever happened to my writing career. I still think about Steve from time to time, and go out of my way to help talented writers find their way regardless at what cost. Going from famine to freelance writing was a process that took 16 months, plenty of lucky breaks and an unwavering commitment to never surrender.