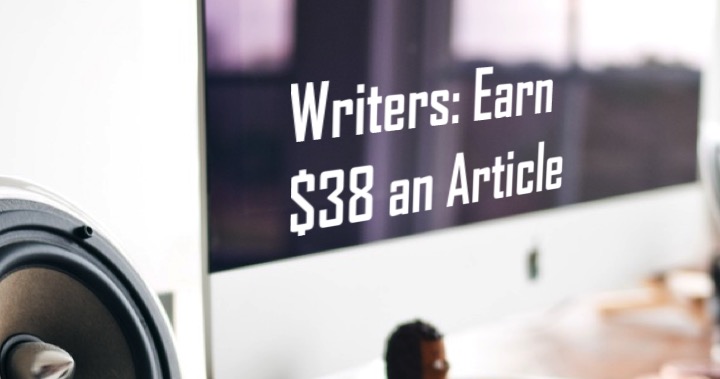 If you are looking for a way to earn some extra money with your writing, this just might be for you. The current pay rates are between $15 and $38 for a 400 word article. But that's not the whole story. Writer's Domain is something of a mystery for many writers. Since the major overhaul early in 2014, the dust has yet to settle, which means that it's hard to know what to expect.
If you can crack their code, you'll find that it's a great place to earn money, particularly when things are slow elsewhere. However, if you're looking for a stable income from a single website, you won't find it at Writer's Domain.
Company Overview
Writer's Domain is the writing arm of Boostability, which is an online marketing firm for small to mid-sized companies. As a writer for Writer's Domain, you'll write blog posts centered around a keyword that you choose from a list. Some – if not all – of these articles are used for link building on private blog networks.
What makes this a great opportunity for writers is that you are free to write about monsters in your basement, how to get away with murdering a zombie, or just about anything else. If you can adhere to the Writer's Domain rubric, and relate your topics to the chosen keyword, you can make a decent sum while writing fun blog posts.
The Writing Opportunity
Writer's Domain offers a couple of different opportunities. All writers start out by writing 400-word standard articles. Those that receive consistently high ratings are invited to write 600-word premium articles for a substantially higher price. Rather than receiving a title with detailed instructions, you'll choose a keyword from a list and create your own topic that is relevant to that keyword.
The pay at Writer's Domain is on a sliding scale, based on the star ratings that reviewers assign to each article. If your article receives a 1 or 2-star rating, the reviewers will send it back for a revision. Articles that receive a 1 or 2-star rating after that revision will be rejected. Standard articles rated at 3 stars pay $15, and 4 and 5-star articles will get 17.50.
Premium articles are subject to revision or rejection if they are rated at one, two or three stars. At four stars, a premium article pays $34, and a 5-star premium article pays $38.
The payment system is one major reason why so many writers flock to Writer's Domain. Rather than bi-weekly or monthly pay, Writer's Domain offers a Pay Me Now (PMN) button. If you have $100 in your account, you can hit the PMN button to send your earnings to PayPal any day of the week, as many times a day as you want. If you choose not to pay yourself, your earnings will be deposited in your PayPal account on the fifth of each month.
In theory, your earnings potential should only be limited to the number of articles you can write per day. However, two things will stand in your way.
First is the article cap. Right now, there is no article cap, but prior to the company's major overhaul in 2014, writers were limited to 80 articles per month. No one – Writer's Domain staff included – is certain whether the article cap will come back, or how large it will be if it does come back.
The other problem is that it's tough to gauge how much work is available at any given time. Keywords are added every day, but the constant ebb and flow of active writers means that you can never be sure if there will be a backlog or a dearth of articles to write.
How to Sign Up
Compared to many other writing websites, the registration process at Writer's Domain is relatively simple. You'll be prompted to enter your name, address and other relevant information. After that, you'll be asked to take a timed grammar test. If you fail the test, Writer's Domain lets you retake it in six months.
Once the grammar test is complete, you'll need to submit a 400-word writing sample. As you're writing the sample, pay very close attention to the Writer's Domain rubric. It won't hurt to spend some time perusing their blog, either, since most posts are meant help writers in some way.
If Writer's Domain is currently hiring, you're likely to hear back on your test and sample quickly – sometimes even the same day, but usually within a week. When Writer's Domain isn't hiring, you'll be put on a waiting list, and you'll be considered when they start hiring again.
How to Get Writing Jobs
Once Writer's Domain has approved you, they'll ask you to submit a W9 form. After your W9 is verified, you can start writing.
At first, you'll only have access to standard 400-word articles. Pick from available keywords under the "Browse Articles" heading, or hit the Get Next Article (GNA) button to be assigned a random keyword. GNAs are high-priority articles that offer a slightly faster review time than those selected from the "Browse Articles" list.
You can check out one keyword at a time, and you'll be given eight hours to complete the article. There are no penalties for dropping a keyword or letting it expire. If your article is sent back for a revision, you'll have 24 hours to complete the revision and resubmit. Dropping an article in the midst of a revision does come with a minor penalty, so if you drop revisions constantly, you may endanger your account.
Reputation
Writer's Domain is a company that seems to be in a constant state of flux. Rules and pay rates change quickly, sometimes with only a few days' notice, which makes it tough to feel like you're standing on firm ground with this company. Part of the problem is that the parent company, Boostability, has experienced tremendous growth over the past few years, which meant that Writer's Domain needed to undergo major change in 2014 to stay competitive. Since the overhaul, pay rates have fluctuated wildly, from $3 to $3.30 for 200 words, to $20 for 400-word standard articles, and back down to $15 or $17.50 for 400-word standard articles.
Writer's Domain doesn't cheat their writers out of paychecks, and issues with payment transfers are both rare and addressed promptly. However, the September 2014 pay cut at Writer's Domain left many writers wondering about the company's ethics. At the time, standard articles were paying $20 and premiums were worth $40. Writers that had articles pending from August were subject to the new pay rates on any articles that received a revision request after September 1, 2014. It worked out to a retroactive pay cut that was based on reviewer opinions of your completed articles.
The other common complaint with Writer's Domain is that article reviews are subjective. It's not surprising that with humans reviewing the articles, there will be some disagreement as to what fits the rubric and what doesn't. Consequently, there are times where you will receive a revision request that doesn't make sense. However, in these instances, the support staff is normally very helpful. If the issue is with the reviewer, Writer's Domain will work to correct it. Otherwise, they will help you to understand why the reviewer sent your article back.
Personal Experience
Having written for Writer's Domain for the past few months, I will say that the company is puzzling, at the very least. However, I enjoy writing off-the-wall posts about boring subjects. The revision requests are a little quirky, but I've never had one that was totally unreasonable, and I've not yet had a rejection. If you can nail the style they're looking for, you can make quite a lot of money in short order.
On the other hand, the fluctuations in pay and article availability means that I normally only write for Writer's Domain when I'm bored or I don't have work from other clients and websites. This is a point that many writers overlook in their rush to start making the high rates that Writer's Domain offers. The company states that they are not meant to be a place for writers to make their primary income. Instead, the Writer's Domain FAQ says that you should treat them as a source of supplementary cash, and I tend to agree.
Whether you're new to freelance writing or a seasoned pro, it's definitely worth it to register with Writer's Domain. The craziness tends to make this place a little intimidating, but if you stick to the rubric and come up with some creative ideas, it's easy to make a tidy sum – at least until they decide to overhaul the company again.
Write for them when you need to fill in the gaps, or when you've found a great way to relate grizzly bears to your garage door keyword. Just don't count on Writer's Domain as a primary source of income.  That's why we we send you a variety of writing opportunities in our free newsletter. As a freelance writer, the more clients you have, the more stable your income. If you haven't subscribed to our newsletter yet, I invite you to do so now. It's completely free.