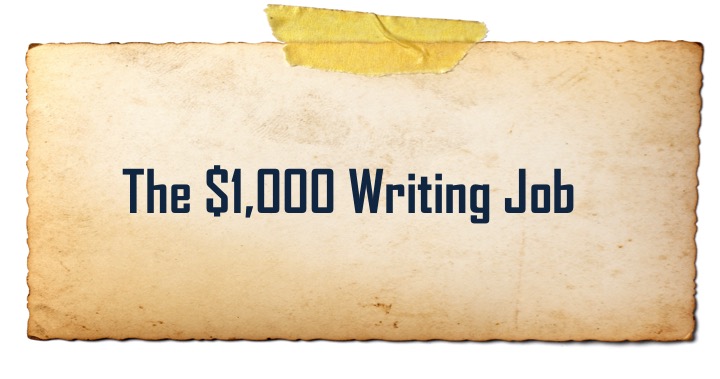 If you want to make a living as a writer, this is for you. Why? Because I'm going to show you exactly how I got my first big writing client. Not only that, I'm going to walk you through the steps that I followed, so that you can duplicate my success.
You might find it surprisingly simple. It might even be too simple. But here's what you need to know: Sometimes simple isn't always obvious. It's not always easy either. But that's what Freedom With Writing is here for: To make finding writing jobs easy and obvious.
Now I don't know about you, but I'm terrified of the telephone. Every time I hear the phone ring, my stomach twists into a knot of fear. I rarely make phone calls to people I don't know well unless I absolutely have to, and even then it can take me a full morning to pluck up the courage.
When I've had jobs that required me to answer the phone, I've done so professionally and politely. But when it comes to running my own business, it's something I'd rather not do too often.
I believe one of the reasons for this is that, like many freelance writers, I'm an introvert. Introverts have a rich inner life, and spend a lot of time thinking and reflecting. Alone-time is what gives us introverts energy and purpose. The "brrrng! brrrng!" of the telephone pulls us out of our inner world and back into harsh reality.
If I'm honest, one of the main reasons I set up shop as a freelance writer and blogger was so that I could avoid using the telephone. I reasoned that I could find work online, so I'd have no need to make calls with clients. For the most part, that has proven true. However, there's one big problem with my fear of the telephone.
I only discovered this problem a significant length of time into my freelance writing career, after I'd spent years earning only a little above the minimum wage. When I found this problem and relaunched my business, my earnings increased, a lot.
What was the problem I discovered?
Most freelance work comes from talking to your friends and family, and from connecting with the people they put you in touch with.
I had to find a way of doing this without using the telephone.
Before I go on, I should be clear that my prejudice against the telephone is entirely my own. Using the phone can be a great way to connect with potential clients. Indeed, some freelance writers, such as Peter Bowerman, author of The Well-Fed Writer advocate cold calling as the best way of finding clients.
What can those of us who'd rather not use the telephone do?
Fortunately, I found the solution. It doesn't involve scouring through online jobs boards looking for work. But it does involve sitting at your computer. And it does involve writing.
The answer is email.
If, like me, you've got a phobia of the telephone, email is perfect for reaching out to friends and family, and making connections further afield.
In fact, I'd go as far as to say it's better than the telephone. Email is non-intrusive. People only need reply if they want to. They can write replies in their own time, at their own convenience.
You might wonder why it took me years to discover the power of email. I'm baffled by it too! The truth is, I didn't know there was work out there if only I reached out to my family and friends. Also, I worried my friends would think I was crazy for starting a freelance writing business. It was something I kept to myself. I wanted to prove I could be successful before I told anyone what I was doing.
Although I don't berate myself over my past, I now see that was the wrong approach. I'd have grown my business faster if I'd have reached out to friends and family early on.
I recognized it can be scary to approach your family and friends about what you're doing. That's why I've decided to share the email I used when I reached out to family and friends. You can use this email as a template for writing your own emails.
Before I show you the email, I'd like to share a few tips about reaching out to family and friends.
First, avoid the temptation to be salesy or stand-offish. Just because you're writing to them about your business doesn't mean you should change who you are. You're letting them know about something new that's happening in your professional life. You're not trying to sell anything.
Second, every email you write must be unique. Yes, you can have some sections that you copy and paste. But it's important to personalize each email. This should go without saying, but I'll say it anyway. Address the email to the person you're writing to. And before you say anything about what you're up to, check how they're doing, and ask what's going on in their life.
Third, before you write to anyone, I recommend making sure you've at least got some writing samples to show. Publish some blog posts or volunteer to help a nonprofit with their marketing materials. You don't need to link to your writing samples in your email, but you do need them available in case someone replies and asks to see a sample of your work.
Finally, don't be afraid to subtly promote your services. If you believe the person you're writing to might be interested in some of your services, then specifically list those services. At the very least, mention your website, and ask them to take a look through it.
Here's the email. Notice all of the above elements: the personal writing style, the unique opening paragraphs, and the subtle promotion of my services.
Dear [Friend],

Happy New Year! How was your Christmas holiday? How is everything at [your organization]?

I wanted to let you know that since leaving [name of organization] I've been honing my communications skills that you noticed in me and helped me to develop. Because I enjoyed working on communications so much at [name of organization], I've decided to set up a business helping nonprofits and social enterprises with their communications.

My main work is writing copy, such as press releases, newsletters, case studies, fundraising letters and video scripts. The aim of all of these is to develop visibility, to share core messages, and to cultivate a wide support network.

You'll find my new contact details below. If you can spare a couple of minutes, I'd be really grateful if you took a look at my new website, which gives a more detailed description of my writing services. Any feedback you have on my website is very welcome.

Finally, if you hear of anyone in your network who might be interested in my writing services, please share my details with them.

With best wishes,

David
This is the email that worked for me. As a direct result of emailing my contacts in this way, I was awarded a four-figure writing contract.
Why don't you go ahead and do the same? Even if you can only think of five people you could email right now, it could open up opportunities beyond what you believe is possible.
Go ahead and try it. You've got nothing to lose, and everything to gain.