TANSTAAAFL Press is currently seeking submissions for their forthcoming anthology of post-apocalyptic short stories. The anthology will be called "Enter the Apocalypse."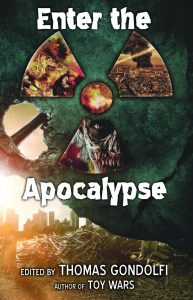 They are accepting original, unpublished stories for their anthology.
The deadline for submission is September 15th, 2016.
They pay an average of 3 cents per word, up to 8,000 words. According to their submission guidelines:
"The Enter… series will pay for each story used in the range of $0.01-0.08 per word (averaging close to $0.03 per word). People who have stories for each of the works accepted with the same world will receive a boost on each consecutive story. An example: Say TANSTAAFL thinks your work is worth 3c per word on your story in …Apocalypse. Then you submit a story from the same world to …Aftermath. Assuming it is accepted you would get 3.5c per word on that story."
To learn more, read their submission guidelines.